Aim: Build a working, albeit small, Ferris Wheel.
Resources: SL building tools, LSLwiki, my own mind, friends.
Action: Build Ferris Wheel. Script it to work properly.
Project Status:

In Progress.
First, I would like to share a quote with you, from the conversation h
eld pa
ra
llel to the scripting of aforementioned wheel:
Lukos Tairov:

This ferris wheel can go and ####### #### itself with a ############# ### ####.


Marcus Tairov:

Sir.


Marcus Tairov:

You are attempting one of the most difficult engineering feats for SL.
I am inclined to agree with him, and if you do not, a) you are Mech
a Dinosaur, or someone, or b) have never tried to build a working Ferris Wheel.
So, back to the blog. I started off this morning with talking to my dear Auds. We were talking for quite a while, actually. Being in Australia, she's going to bed when I'm waking up, and vice versa. However, we had a nice chat. Her friend, Sarinah, came
over, and yeah. We were talking. This is after I criticized Audrey's very nicely made, prim-heavy ro
cking chairs (That you can't even sit on properly). So, instead, she rezzed a box with alpha transp
arency and visibility on the corners. A one prim chair base, really. So we all s
at on those instead. I insisted she consider poseballs, but she has a certain idol she'd rather not know she had to use them, as certain idol does not, and yada yada.
Then, more talk involving babies, sunday lunch, and gentrophilia, I ask
ed Audrey about her Genie Lamp and her Cinderella carriage, and how old she had been whe
n she made them. Being the sort of fellow I am, I find myself worrying I've been here almost a month now (ignore my rezdate), and haven't made anything .. marvellous, as those two things are. Yes Audrey, I really think they're good.

So, this lead to me poking her for a project. I find I have to do this a lot,
as I'm quite bad at finding ideas I like, so she suggested "Carnival". I didn't immediatly sh
y away from this, as I usually do from ideas, because.. I kinda wanted to do it. Audrey went
offline, I flit
ted back to my ctrl+shift+H, sat in a Comfy chair and got to work outside on the sky platform.

Firstly, I made the center prim.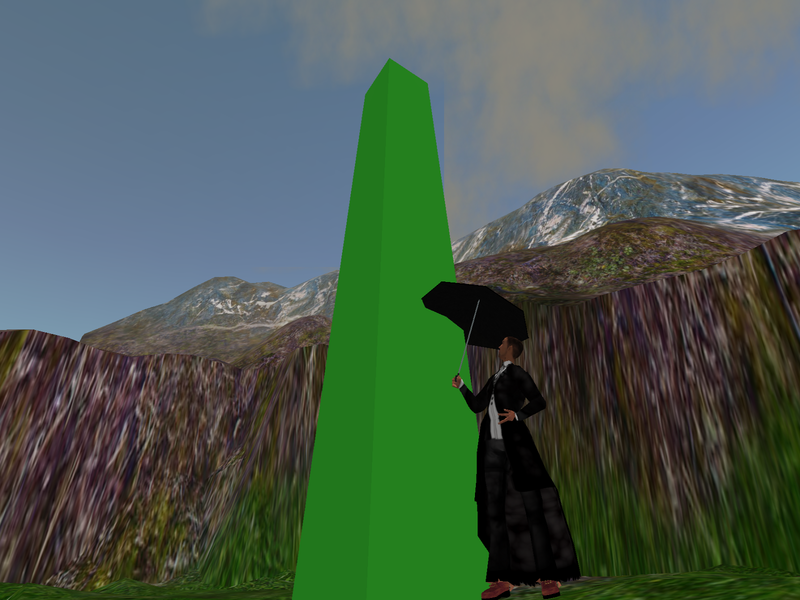 a nice picture of me looking up at the tip..

And then, I had the "spokes" to worry about. So, I did a little research, and came up with a very nice design - a lot of very nice ones, and I decided to forget ab
out the t
extures for now. That could come after I've made the damn thing, so I opened up my copy of Tokoroten
, and made myself a nice star-shaped sculptie which I'm quite proud of.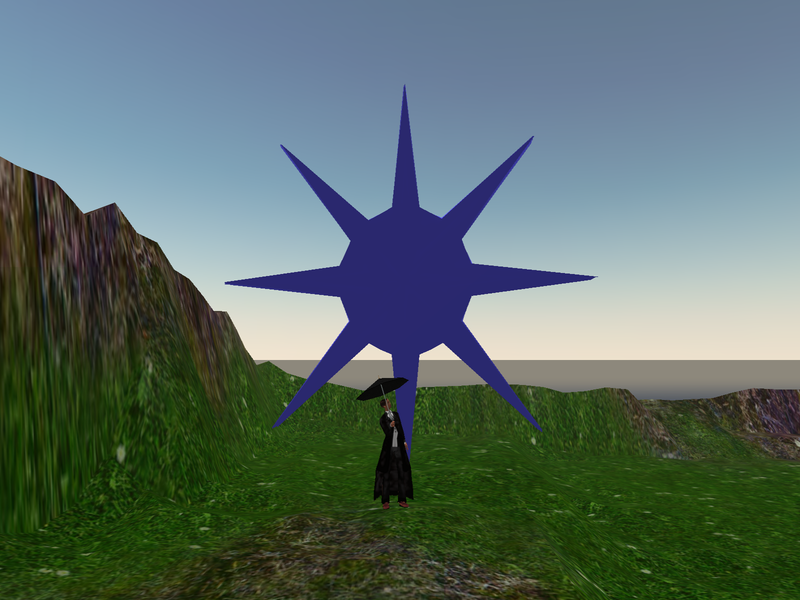 another nice picture of me looking up..

Then, I made a center strut, duplicated the spokes, hereonout they'll be called wheels, positioned them either side of the center prim, tada. Ferris wheel! Right? Well, I thought so.. I picked up my stuff, ready to go to a tui class, full, came back, re-rezzed my stuff and got to working again. I made some cylinders, put them in between the wheels (y'know, for the carri
ages to hang from), and using my brilliant scripting skills (llTargetOmega - arguably t
he first lea
rnt and easiest function/event (can never remember which is which..), got it to rotate! And it was then tha
t I realised the big flaw in my design.. Ferris Wheels can't work like that...


Yeah... This isn't the original, as I accidentally deleted all my copies except the original rezzed in front of me, but you should see what problem I faced with the rotating..

Obviously, this prompted a swift redesign; I googled again, and found out how a proper ferris wheel is supposed to be made. Instead of a center strut inside, I need two - Outside. And thus, the new center of my Ferris wheel was rezzed into the world:



And I modified the center strut and wheels to accomodate the change and it ended up something like so: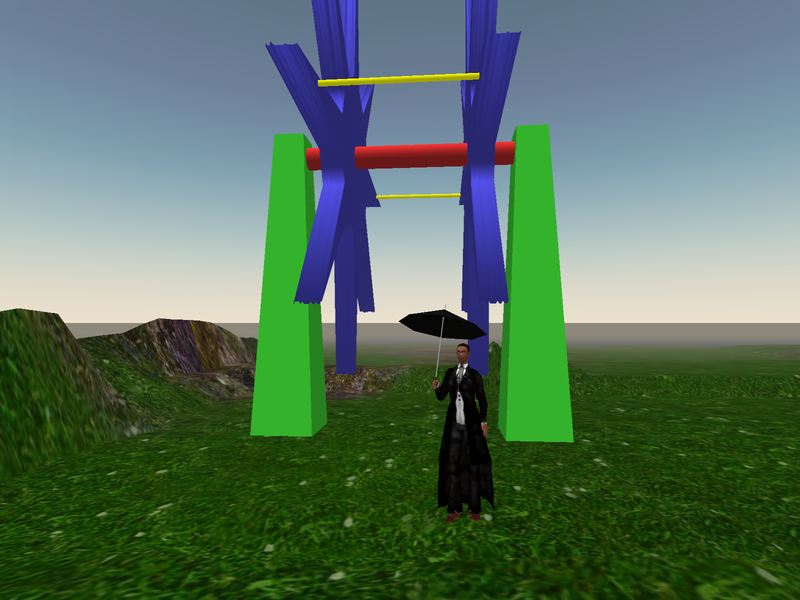 Sexy, no?

Then, I made seats bla bla bla physical wouldn't work bla bla bla clumps of hair on floor bla bla bla..

So, yup yup.. I went to see a nice Jagermeister (I can't do the alt codes for the dots), as he had a ferris wheel built upon his sim by someone, and he gave me a follower script which may work for the seats (So they don't go upside down each time..) and a neat ride in his neat airship, which worked on that script.

Then I came back and, knowing all along I couldn't link it all to rez it at ease, I'd need to use llRezObject. I thought this'd be the least of my worries. Right now, it is the

main

worry. I added the xyz of the objects to the main script easily enough, which i put in the center prim/support bar thing, and this is what they rez like:


Not quite in working or
der, shall we say..

The problem is the rotation. The two objects (the seats and the wheels - both a set unto themselves) have a natural rotation on them, for some reason, so until I figure out quarterninions, or I find help, I'm stuck.

However, despite all the hardships, I've been enjoying it (for the most part) - I've yet to find something that has really held me as a project, and this has, so I'm very happy.

Thank you to Audrey, Marcus, and Mavromichali for all your help.

Lukos out.